Description
Ingredients
We blend full spectrum biomass of mycelium and young fruiting bodies with the pure fruiting body so we can squeeze every last active compound out of our mushrooms. These compounds include beta glucans and other unique nutrients not found anywhere else in nature. Defend against daily stresses and stay focused and alert with a convenient and precise therapeutic dose of our organic Lion's Mane mushroom capsules. Lion's Mane is also known as the 'Mountain Priest' mushroom and revered by ancient medicine for its cognitive and nerve benefits. In Western medicine it is known as a nootropic for its psychoactive substances and ability to stimulate active nerve growth factors (NGF).It has a sweet and mild flavour, and in Traditional Chinese Medicine (TCM) it is considered to regulate the 'Qi' energy and promote digestion. It calms the 'Shen' spirit and soothes the mind.
Our Lion's Mane is cultivated on specialist organic mushroom farms and grown under nature-identical conditions to ensure superior nutrient content. This mimics the conditions that we would find in wild mushrooms. All our products are third-party tested to ensure purity of the mushroom strain. We also screen them for contaminants, pesticides and heavy metals. So you can be assured all of our products are manufactured to the highest quality and standards.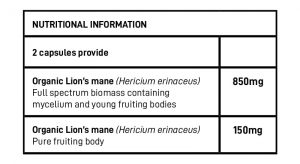 Directions
Adults take 2 capsules, 1-3 times a day with or without food.
Precautions
Do not exceed the stated recommended daily dose. This product should not be used as a substitute for a varied and balanced diet, and a healthy lifestyle. If you are nursing, pregnant or considering pregnancy, you should consult your healthcare practitioner prior to using this product.
Store in a cool, dry place out of direct sunlight. Keep out of the reach of young children.